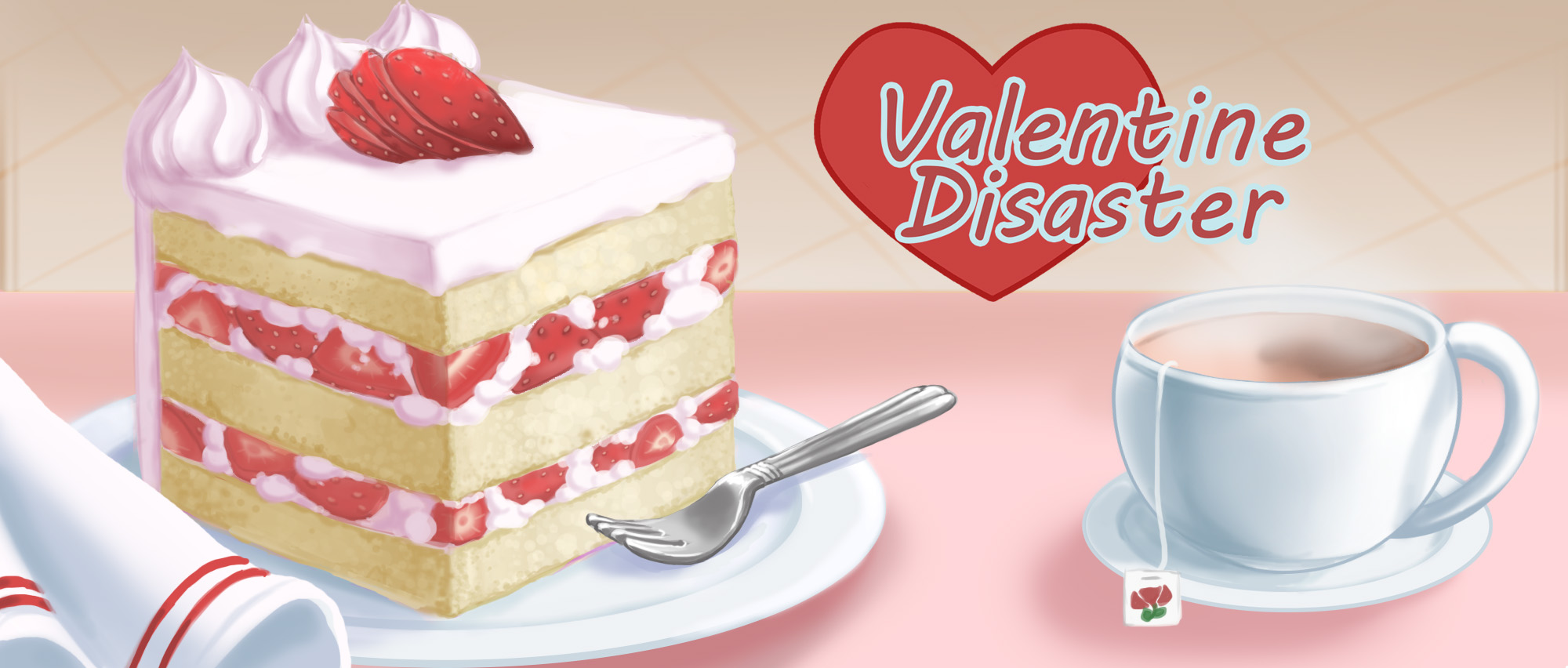 Valentine Disaster
A downloadable game for Windows, macOS, and Linux
✨ Sweets & Girl Love ♥
⚢ 💘 A Yuri Point-and-Click Visual Novel Game 💘 ⚢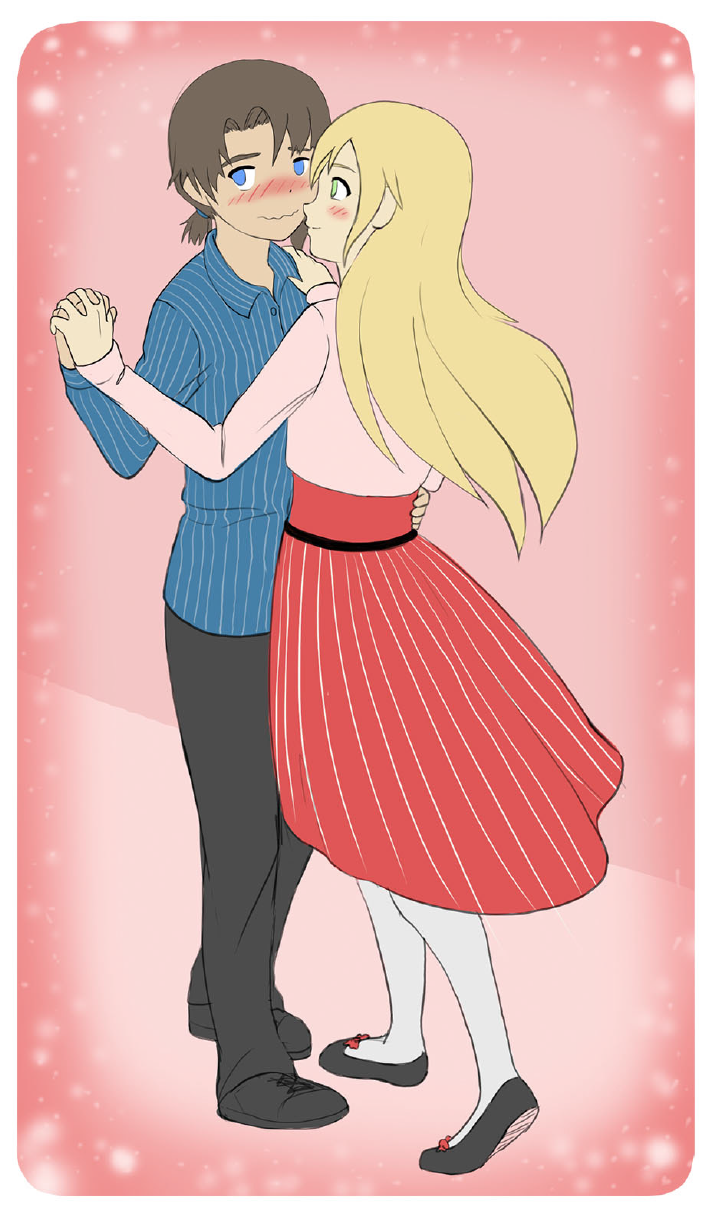 ❤ 🍓 🍰 🍓 ❤

High school sweethearts Celena and Aimee planned to celebrate Valentine's Day. But one morning, an unpleasant surprise seemingly ruins their plans for the perfect Valentine's Day together. Celena only has one chance to make things right. Help her create a delicious Valentine's Day gift for her girlfriend and save her relationship!
♥ ❤ 🍓 ❤ ♥

Choose from 4 sweet recipes to make the perfect Valentine's Day gift
~20 minutes of gameplay with replay value of ≥ 1 hour
Three different endings
Shop for ingredients and create desserts
Unlockable date
Claw machine mini game
Game comes with a digital copy of Be My Valentine comic by Saint Bree!
❤ 🍓 💝 🍓 ❤

Story & Programming: Anna Mao
Character/Environmental/UI Art: Saint Bree
Environmental Art: Level5pencil
♥ ❤ 🍓 ❤ ♥

| | |
| --- | --- |
| Status | Released |
| Platforms | Windows, macOS, Linux |
| Release date | Apr 22, 2018 |
| Rating | |
| Authors | Mao Mao Galaxie, Mao Mao Galaxie |
| Genre | Visual Novel |
| Made with | Ren'Py |
| Tags | Cute, Female Protagonist, Lesbian, LGBT, Point & Click, Ren'Py, Romance, valentines-day, Yuri |
| Languages | English |
| Links | Homepage, Blog |
Download
Click download now to get access to the following files:
ValentineDisaster-pc with Comic.zip
114 MB
ValentineDisaster-mac with Comic.zip
97 MB
Comments
Log in with itch.io to leave a comment.
Oh man I loved this game!! Aimee and Celena are both so cute~ I think it was nice to see a visual novel dealing with relationship problems, we don't have a lot of them. Also one of my favorite parts was when Aimee had preferences. By that, I mean that Aimee will react positively to some food even though you totally messed it up but some food she'll hate though it is made well because it just isn't her type. I believe this made the game much realistic. Oh also- just like a comment a bit down below mentioned, I think it would be better if the choose-the-ingredients part had a visual way for the player to know it. So we can un-select ingredients and there are some people like me who play games with all music& sound muted, yknow? Anyway, it was a really cute vn, I hope to see more of these from you!
Also the comic was so friggin cute!!!
This is such a cute story. I'm so glad i downloaded it! <3
Okay so I know I'm probably just being dumb but how do you do the baking thing?? It gets to the select ingredients part and doesn't do anything when I interact with anything? So can someone help me answer what I'm doing wrong?
Make sure your sounds are on because when you click on each ingredient, you can hear it get selected. After you pick all your ingredients, did you click Create? It is on the top center.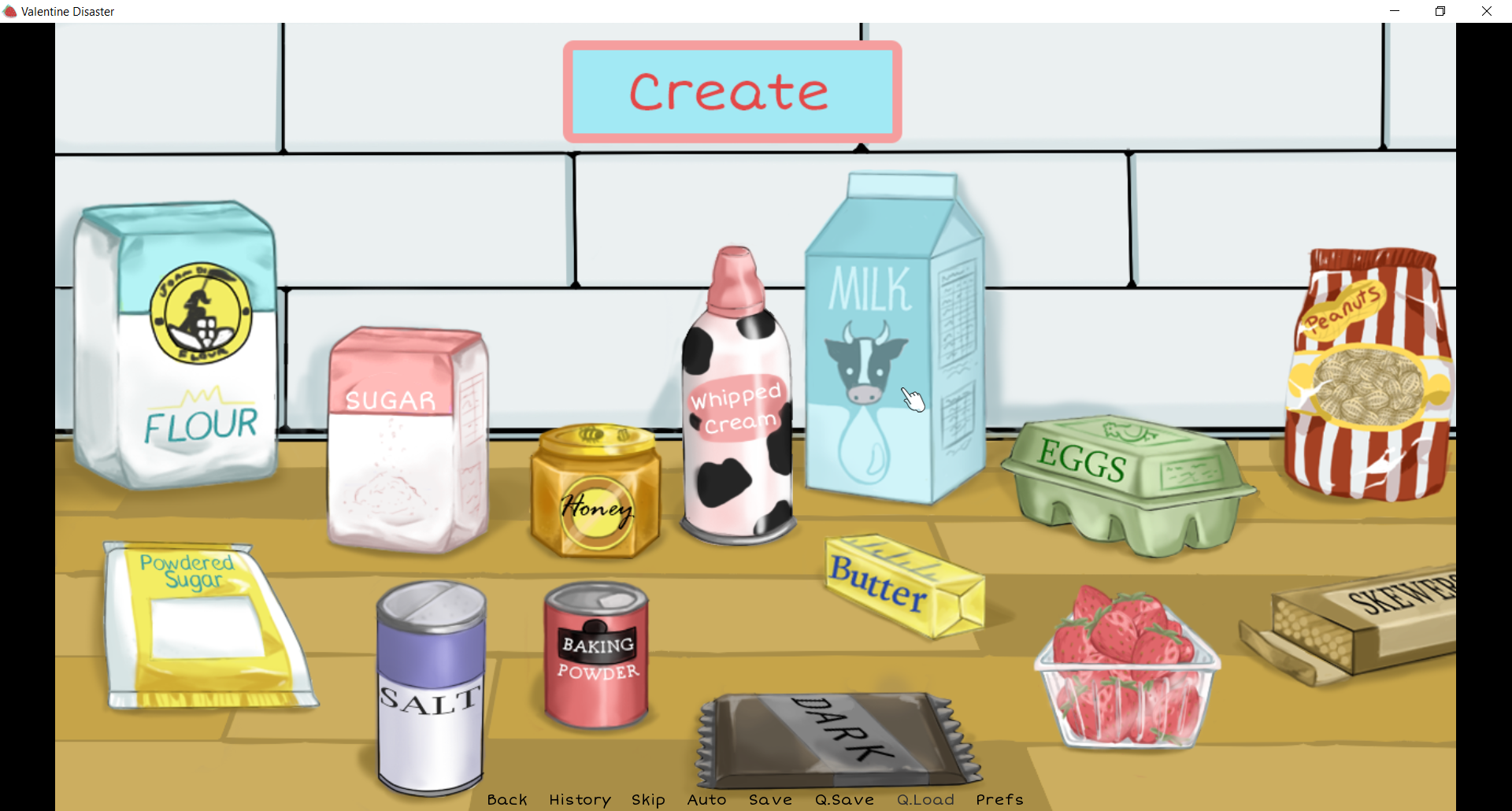 Oh! That makes so much more sense! I can't check if that was my problem now but thank you nonetheless!
The baking is pretty unintuitive though (I just came here with the same issue). I think there should be some marker on every ingredient selected, so it becomes visually clear what I picked.
Otherwise, if I select something wrong, there is no way to clearly de-select that ingredient?
I think that part could've been done a little better.

Other than that it was pretty sweet. :)

it's cute game. With cute artstyle and about love. I'm waiting for full version
edit: I just finished full version and I love it ♥
I in no way was making fun of your game. I know my silly voice may come out as mocking it. Was totally not my intention. I think you made a great visual novel. Just wanted to do a girls voice that was different than some of the others i've done. I also realize that the main protagonist name is Celena. Saleena with a C. My dummy self couldn't make the connection in my mind when I was recording this not until after I watched it I was like oops... You did a great job you can feel a lot of emotion between Celena and, Aimee.
Pretty cute demo! The art and designs are very well done! The writing looks to be entertaining as well. I'm pretty interested in the point and click mechanics as well. If I have any complaints, I wish the demo was a bit longer. I did a video and it took about 10 minutes, given that I was doing silly commentary. But, if I was casually playing, the demo would probably be less than 5 minutes. Perhaps its just the urge that I wanted to see more, but hopefully you can extend the demo a bit to show off a little more of the game in the future. All the core elements of what the full game will be are represented though, so I won't complain too much.
I also had a problem launching the game from the "launch" option in itch.io. I had to go into my local files and extract a zip folder of the demo that was downloaded, then launch the game from there. Hopefully you can fix it so where we can just hit the launch button. Just a little nit pick. Haha.
Anyways, I'll leave a link to my video here. I hope you find it somewhat entertaining. (strong langauge warning) Keep up the great work, I'm looking forward to the full release!
Thanks for playing and leaving us feedback! We're glad you still enjoyed the demo even though it was short. We changed the zip files, so thanks for bringing that to our attention. Hopefully it is more convenient to launch the game now.